We are proud to announce that we are partnering with the Armed Forces Financial Network! They are our title partner and with their generosity, we are confident that the ripple of impact will be spreading far and wide throughout the globe each year!
Giving Tuesday is the Tuesday following Thanksgiving every single year and was established in 2012. It is a global campaign aimed at inspiring global generosity and giving back. In 2019, the campaigns worldwide raised over $511 million dollars for nonprofits. Giving Tuesday believes that the world can be a more beautiful and kinder place when we work together.
Giving Tuesday has a massive social following on all social media channels aimed at showcasing kindness. It is with this in mind that Jessica reached out to Giving Tuesday in the summer of 2019. She shared a military family makeover episode that Maria and she had completed for a Coast Guard family through Maria's show, Moving With The Military. That message sparked everything.
Jessica, Maria and Sam were asked if they would run a Giving Tuesday campaign. Their answer was yes. Stacy quickly came on board designing logos, social media, and other content. Soon hundreds of incredible ambassadors quickly joined in too. The Giving Tuesday Military movement was born, with the goal of 1 million acts of kindness to be completed on Giving Tuesday, 12/3/2019
The campaign surpassed the original goal and reached not just one million but 2.5 million people.
Following #GTM, lives were changed forever. After witnessing the incredible impact that kindness could have, they knew that somehow they wanted to embody that intent. Every single day. Through this, Inspire Up™ was born.
To learn more about this initiative and join in for the next Giving Tuesday Military, click here.
#GIVINGTUESDAYMILITARY
Giving Tuesday Military was the initiative that started it all.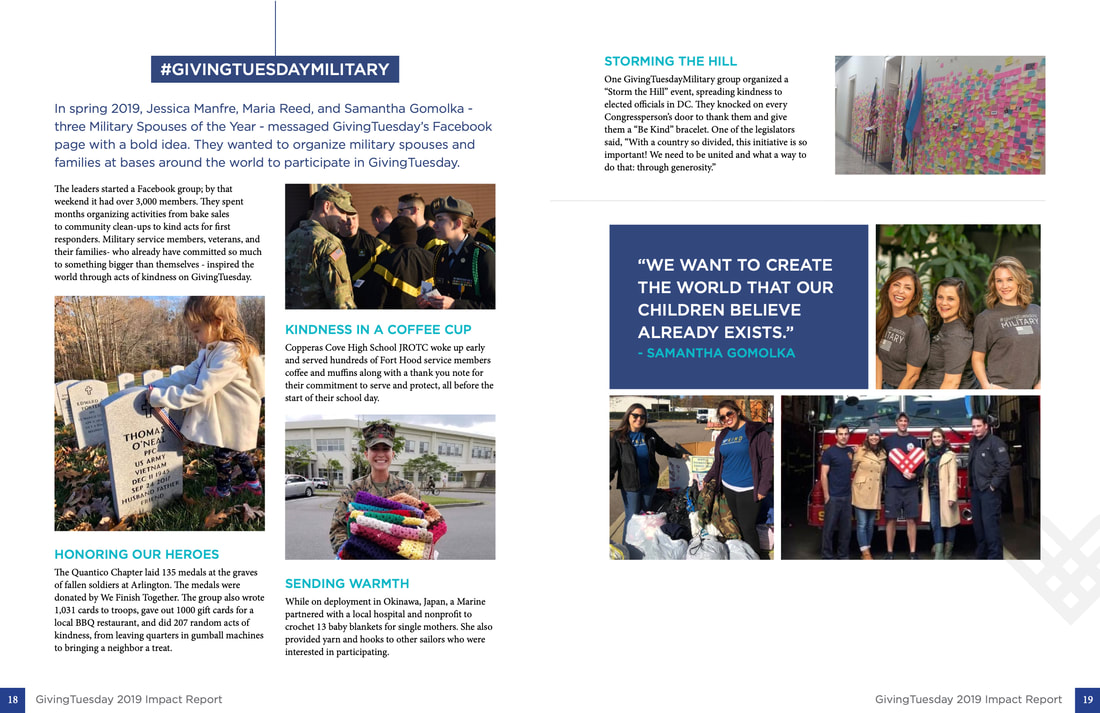 Mission: Kindness
Are you a military spouse who is devoted to serving your community? We are seeking changemakers for a brand-new pilot program.
Inspire Up will be pairing military and first responder spouses with Caliber Home Loans employees for a grassroots campaign to promote community giving. We are seeking military spouses located in the following areas: San Diego, Seattle/Tacoma, Phoenix, Dallas, Jacksonville, Virginia Beach, Oklahoma City, Boston, Colorado Springs, CT and NY.
If you have a passion for serving and have a project we can support, register today.