#GivingTuesdayMilitary is out to change the world as we know it – one act of kindness at a time. On Dec 1st 2020, millions of people responded to the call to be kind. Last year's inaugural event of #GivingTuesdayMilitary challenged the military community to commit to 1 million acts of kindness on Giving Tuesday – a day typically reserved for non-profit fund raising.
During this year's event, the results were extraordinary. The military community rose again toward the occasion of giving back and spreading kindness like confetti. Participants snapped photos of their acts of kindness and stormed social media. Twitter reached over a million people. Facebook and Instagram had shut down their tracking, so the numbers can only be speculative. Inspire Up stopped counting at over 200,000 acts of kindness posted on those platforms.
Thanks to Giving Tuesday's ability to track media, Inspire Up and Giving Tuesday Military reached 73 million people nation-wide between November 1st to December 1st.
Giving Tuesday Military is the premier initiative of Inspire Up, the non-profit formed by Jessica Manfre, Samantha Gomolka, Maria Reed, and Stacey Bilodeau.
This amazing collaboration between spouses and military branches believes that kindness truly can change the world and the people who share it for the better.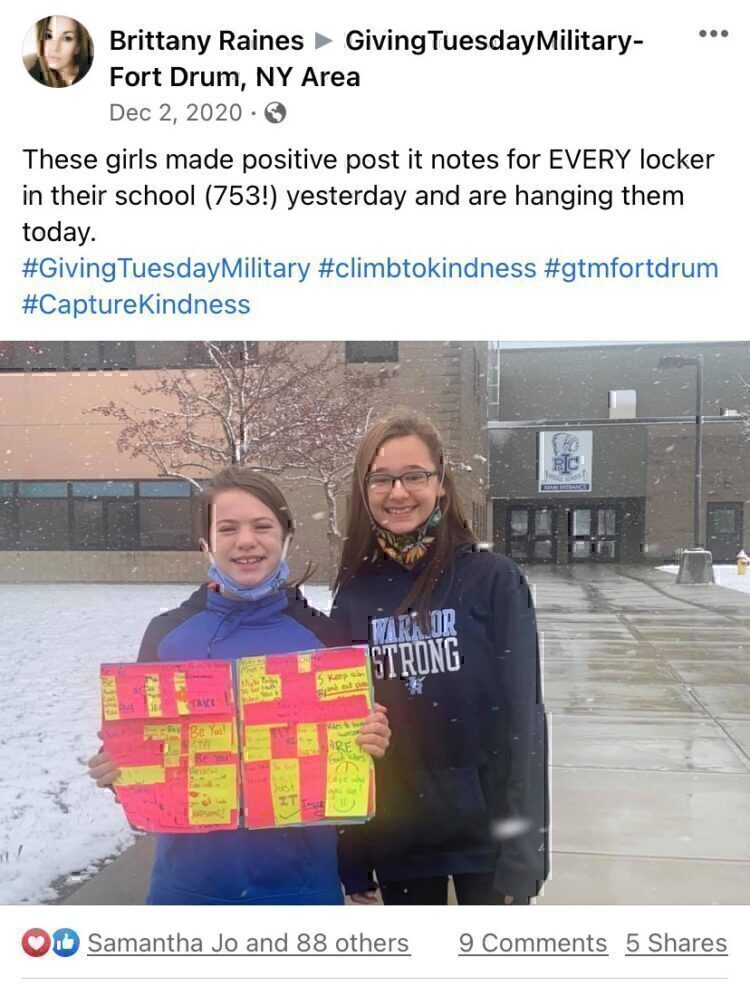 Words Matter. Kindness need not cost money. Some of the kindest things that we can do for one another come straight from the heart. We can use our words to lift others up, share an encouraging message, or give immense hope. A couple of military kids took this lesson to heart by creating positive words of affirmation and posting them on every one of their school's lockers. School age children were greeted by inspiring notes of sweet thoughts and words of encouragement. In 2021, we can practice an attitude of lovingkindness simply by sharing positive and unifying words with those around us.
A Meaningful "Thank You." How can we show appreciation to those who have served and sacrificed with compassion? We learned this year that we can marry our actions and our intentions. #GivingTuesdayMilitary partnered with Veteran's Last Patrol, a non-profit organization that is dedicated to serving veterans in hospice through friendship, to support Operation Holiday Salute. This program sends letters and cards to veterans in hospice all over the country. In 2020, over 30,000 Christmas cards and letters were distributed to our country's true heroes.
Meeting Practical Needs Brings Hope. If 2020 taught us anything, it was that we have vulnerable members in our society. There are many that struggled through sickness and poverty. Others fought to make ends meet. #GivingTuesdayMilitary stepped up to serve the vulnerable men, women, and children who had tangible needs. With the support and partnership of her local community, Jessica was able to secure 350 pairs of pajamas for foster children in the greater southern Illinois region. The Restore Network, an advocacy organization for foster children and families, received and distributed them.
When speaking to Co-Founder Jessica Manfre, she said, "Giving Tuesday Military is not a 'me' thing. GTM is a 'we' thing." She firmly believes that Inspire Up and #GTM can impact the current culture. By shaping our culture to be more kind, GTM strives to save lives, share hope, and build joy.
Find out more information about this incredible organization, and all of their initiatives, at www.inspireupfoundation.org.
Megan B. Brown is a seasoned military spouse and military missionary. She is the Military Liaison for the Speak Up Conference Global Missions Military Scholarship and the 2019-Armed Forces Insurance Robins AFB Military Spouse of the Year. She is passionate about military mission work and teaching and preaching about Jesus in and out of the local church. Her Bible study, "Summoned: Answering a Call to the Impossible," published by Moody Publishers in Chicago, will release in April 2021. She lives in south Mississippi with her husband, Keith, and their energetic kiddos. She is a Bible teacher, speaker, and freelance writer. To learn more or connect with Megan, visit www.meganbbrown.com.