As the United States approaches two months in quarantine, people from all walks of life are starting to feel the effects of social distancing and continued isolation. Retired Air Force Lt. General Stanley E. Clarke III, his wife Rebecca and their daughter Kelly Reynolds, decided to change that narrative.
With an ice cream truck.
Reynolds shared that the family lives in a strong community committed to always supporting each other. Things like kids writing sweet words in chalk on the sidewalks and adults creating fun scavenger hunt games have been the norm during their quarantine. After listening to her mother describe neighborhood ice cream trucks to her 6-year-old son one day, she had an idea. "I turned to my mother and said we should take ice cream to everyone, that it would be so much fun," said Reynolds.
The idea expanded to creating an actual ice cream truck using Clarke's old Chevy Apache to distribute the sweet treats. All the grandchildren jumped in to help. Together, the family quickly went to work creating handmade signs and colorful decorations for the truck. They even fashioned a special tube for distribution so they could safely hand out ice cream while still practicing social distancing. Then they waited for a sunny day, spread the word and hit the road.
It was a huge hit.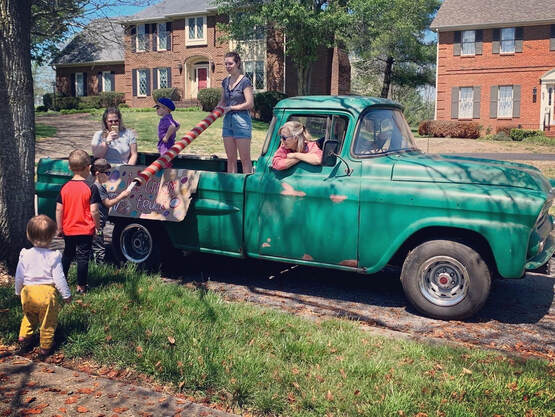 The excitement on the faces of all surprised by the ice cream truck was contagious. "It was like an infection of joy being spread. To be a part of it was so much fun and to know that what we did had an impact was incredible," said Reynolds. She explained that their family resides in a quiet neighborhood in Kentucky, which is filled with medical personnel. Knowing that their surrounding community is battling the pandemic on the front lines made their idea to give back even more special and important to them.
Clarke agreed and shared that he was personally inspired by a group of military spouses who founded the GivingTuesdayMilitary movement. Three women, who were named "Spouse of the Year" for their respective branches, launched an initiative to inspire over one million intentional acts of kindness. Clarke is currently the Chairman of the Board of Directors for Armed Forces Insurance, which owns the Military Spouse of the Year award program.
"This is exchanging ice cream for smiles because how many people are smiling out there, particularly during a crisis? How cool is that?" he said. Clarke said he feels that doing things like this can really make a difference, especially now. Reynolds expanded on that to explain that people really don't need to do anything extravagant or big, but that it was the little things that truly matter.
Studies have shown that social isolation can eventually lead to poor health outcomes. The rapid progression of COVID-19 has forced states to implement social distancing and stay at home orders to save lives. Communities around the country are finding ways to come together to engage with each other safely while also inspiring hope with kindness. General Clarke and his family are one example, and they truly hope to inspire others to do the same.
"Find a small way to spread kindness and joy and just do it. It will impact people," Reynolds said. She feels that these are the kinds of things that need to be seen on social media. Messages of kindness and hope to lift people during a time of fear. "The biggest impacts we can have on people are the ones we don't even know we are creating," she shared.
This family's story of kindness is having an impact. Word is quickly spreading about their homemade family ice cream truck. Several leaders of military bases loved it so much that they talking about starting their own ice cream truck caravans. This demonstrates how one act can have a ripple effect, with no end in sight.
That is the power of kindness.